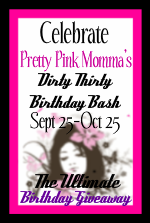 Well, I have had pretty rough go of it this last week and due to circumstances beyond my control I was not able to post all of the featured guests for the Dirty Thirty Birthday Bash as promised. Fighting off the mother of all colds was just the beginning of my problems. I had intended to get everything caught up this weekend but then the unthinkable happened. My laptop crashed! I have feverishly been working to find all of my family pictures, important business documents and emails that were saved on my hard drive. Unfortunately, this task took top priority to all others. I am going crazy trying to figure it all out without losing all my precious memories in the process.
Due to this string of events I will be featuring my last three PPM Bash guests in the next few days. I have access to the internet and blogger is working just fine. Once I get my laptop in workable condition I can calm down and focus on those last few PPM Bash features/giveaways.
So, I have now extended the entry deadline for the Dirty Thirty Ultimate Birthday Gift Giveaway until October 28th.

The three remaining feature giveaways should be posted within that time frame.

This means that the winner for the Ultimate Birthday Giveaway will be drawn on October 29th!
Thanks so much for everyone's patience during this process. Hopefully if you didn't get a chance to enter the bash giveaway this will give you some more time.