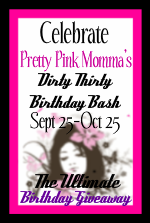 The day has finally come! A winner will be chosen, at long last. I apologize that the delay turned into a two week fiasco but I had no way of predicting that my laptop would poop out on me like it did. I really appreciate everyone's patience and understanding during this whole process, donors and entrants alike.
There was a grand total of 3866 entries for the Ultimate Birthday Gift Giveaway. All I can say is, WOW! Thanks for all of the wonderful birthday wishes :)
Now on to the winner....
True Random Number Generator
Min: 1
Max: 3866
Result: 1143
A huge congratulations goes out to Sarah Osborne! She wins it all! What a lucky, lucky gal! Like all the other giveaways, she has three days to reply or a new winner will be chosen.
Thanks so much to everyone that entered the Ultimate Birthday Gift Giveaway! I hope that you have all fun attending the Dirty Thirty Birthday Bash, I know I did!