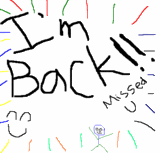 It's official! My laptop has finally been fixed! Well the important parts at least. I still have some kinks to work out but those should be fixed easily. YAY!!!!!! Now life can return to normal. Well, sort of.
Of course I couldn't just come back without any other catastrophes going on right now in my personal life, that would be too perfect. I finally get my laptop fixed and now the flu has taken over the house. Darn that swine flu! Benji came down with it on Monday, then hubby on Tuesday morning and then little Oscar on Tuesday night. All of them have high fevers and a terrible cough. Thankfully Emilio and I have gotten through so far unscathed. Keep your fingers crossed for us that we keep healthy at least.
Anyways, I have a ton of catch up get working on. I will feverishly (haha) be working to get caught up on the rest of the PPM Bash features and get some winners drawn and notified ASAP. This is my first priority.
I also have a ton of reviews to get posted as well as a couple of more giveaways. I will be working as hard as I can to get everything posted as quickly as possible. It will be a little difficult with tending to all the sickies in the house, but I will be doing my best.
Thanks to everyone who has patiently waited for me to get this whole laptop thing resolved. I missed all of my bloggy buds and I am dying to know what has been going with you! I will be checking out all of your blogs and catching up on the last couple weeks worth of posts.
I am especially thankful that I don't have to surf the net and check my email by Wii anymore! I never realized just how much I appreciate typing on a keyboard until it was gone.
Anyways, I am so glad to get thing back to normal. See you round the blogosphere!