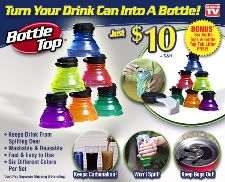 I really want to share with you an awesome invention that I have been introduced to, Bottle Tops. I LOVE them! I first saw these advertised on TV commercial a few months back. As soon as I saw them I knew that I really wanted to try them out. Seriously, this is the perfect solution to that age old problem of what to do with an open can that you desperately wish that you close. I was so happy that I was given an opportunity to review this product and let you know my findings.
As many of you are, I too am pretty skeptical sometimes about all the products that are advertised on TV these days. They always
look
like they are going to work but some if not most follow through on their promise. Well, I can assure you,
Bottle Top
WORKS! Just in case you missed the commercial I am talking about - here it is:
The basic concept behind Bottle Top is that you can simply snap one on to an open can, and voila, you have the ease and convenience of a
reclosable bottle
. It is perfect for so many things! Great for picnics, kids, car travel and more. I love to drink just half of a soda sometimes but I hate that the other half gets wasted. Well not anymore! Now I use the Bottle Top and the other half will stay fizzy until the next day when I want to drink it. Such a money saver! I really love that it minimizes spills too. I can't tell you how many times that my husband or I have left an open can on the table and one of the boys have knocked it over because they weren't paying attention. With a Bottle Top on the can stays closed and no more spills! I also feel confident enough to trust my six year old with a can of orange pop now that I can put a lid on it - especially in the car!
The only improvement that I could think to make, but is not really a big deal, is that I would prefer the screw on cap to the push on caps. I don't know why, just personal preference I guess. I have seen other similar products that have a screw on cap but they were selling the tops for $4 each. Bottle Top is a much, much better investment for the same quality. I would also recommend hand washing the Bottle Top instead of the dishwasher. If you are going to use the dishwasher just make sure that you put it on the top rack. I would suggest trying the dishwasher method on just one Bottle Top first to see if your dishwasher will warp it or not. That way if for some reason it does you will only mess up one instead of all twelve.
The Bottle Tops are sold in packages of 12, in six different colors. The different colors is great because it distinguishes one can from another when you have a few people drinking the same brand. You can purchase them from
www.buybottletop.com
and also at major retailers including Walgreens, Wal-Mart, Bed Bath and Beyond, Target and CVS for a suggested retail price of only $10. Many of these retailers offer coupons too so you may be able to get it for less.
Bottom line, if you have been thinking about purchasing Bottle Top but not sure if it was worth the $10, don't worry. In my opinion it is money well spent.
One lucky Pretty Pink Momma reader is going to get a Bottle Top package of their very own!



How to Enter:

Visit BuyBottleTop.com and comment back on this post and tell me what your favorite thing about the Bottle Top is.

Open to US residents only

.



Get extra entries!
Remember to leave a comment for each extra entry.
- Get THREE Extra entries for entering any other Pretty Pink Momma giveaway. Leave three comments for each giveaway you enter. - Check back often for new giveaways to gain extra entries
- Get
SEVEN
Extra entries for becoming a Facebook Fan of Pretty Pink Momma, leave seven comments.
- Get
TWO
Extra entries if you Grab the Pretty Pink Momma button, comment on which url you posted it to, leave two comments
- Get
ONE
Extra entry for following Pretty Pink Momma with Google Friend Connect, if you all ready follow just put that in your comment
- Get
FIVE
Extra entries if you Subscribe Via Email to Pretty Pink Momma posts, leave five comments - you must activate your email subscription for these entries to count.
- Get
S
IX
Extra entries if you Follow PrettyPinkMomma on Twitter and tweet about this giveaway. Please copy and paste this into your tweet:
Turn your can into a reclosable bottle with Bottle Top - enter this Bottle Top #giveaway and #win http://is.gd/5Fefy
#asseenontv
- Get
TWO
extra entries per day for tweeting daily - leave the tweet url in your comment for each extra tweet
- Get
THREE
Extra entries if you blog about this giveaway - leave the url in one of your three comments
- Get
THREE
Extra entries if you Stumble this post
- Get
TWO
Extra entries by adding Pretty Pink Momma to your Technoratti Favorites, leave two comments
- Add Pretty Pink Momma to any other social bookmarking site - just be sure to let me know which one in your comment. Add a new comment for each site.
Good Luck to all that enter!

This giveaway is open until Wednesday January 20th.

Winner will be chosen using the Truly Random Number Generator widget on my right sidebar. The winner will have three days to claim their prize or a new winner will be chosen.