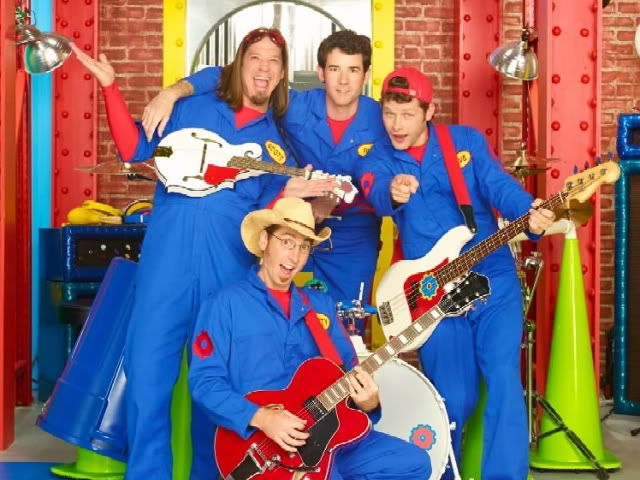 We are going to see the
Imagination Movers
today! The boys are so excited! I must admit that I am too. Out of all the little kids shows that I am forced to watch as a parent
Imagination Movers on Playhouse Disney
is one of my favorites. They have great songs that are fun and super catchy. A good catchy too, not the "I love you, you love me" Barney type of catchy either.
My mom got this for us as one of the boys group Christmas presents. It is the first time that they are on a big tour like this so it should be a ton of fun. I am a little concerned about the theatre that we are seeing them in though. I was at that same theatre a few months ago and it was pretty cramped seating, with the seats on slope. I guess we will have to see how well the kids can get really get up and dance in that type of setting. I suppose that we could let them dance on their seats too. The other bummer thing is that we are on the second level in the balcony seating I hope that we can still get our groove on up so high.
Either way it is going to be great family fun! We are also meeting my brother and his wife and daughter there too. My mom bought tickets for all of us. So I will also get to have fun with my big brother too. Just like the old days. Whenever we get together its non stop laughs so I really can't wait. I also can't wait to tell him that I bought whoopie cushions for the boys stockings - something he would appreciate!
Well, I still need to go get ready for the big event so I will catch you all later! Don't worry I will be sure to post some pics too. Maybe we can even get some shots with
The Movers
, keeping my fingers crossed!