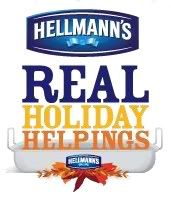 As much as I love spending time with my family for the holidays there is so much stress involved with the preparation of it all. It takes time to plan meals, budget for them and then on top of all that still have money left to buy presents for under the tree.
Hellmann's
, with the help of master chef Bobby Flay, have come together to share some tips, tasty
recipes
, coupons a nd more to help make this year a little less stressful for all of us.
At the
Hellmann's Real Holiday Helpings
site you can plan a meal from start to finish. Bobby Flay has a ton of uses for Hellmann's Mayonnaise that I can promise never even crossed my mind! For example, basting the outside of bread with Hellmanns Mayonnaise before putting your sandwich into the grilled panini press. There are
great recipes
for
main dishes
,
appetizers and dips
,
sides
and
desserts
. Simply because turkey is such a huge favorite for the holidays there are ton of
turkey recipes
as well a s a section for
leftovers
too. I love the
leftover recipes
because I seriously can never think of any options on my own besides a sandwich. Thanks to Bobby Flay I now have several ideas for all my
turkey leftovers
, some of which also work with ham too, which is my personal favorite for the holidays.
The
Hellmann's Real Holiday Helpings
site makes it even easier because Bobby Flay has a
videos
to show you how to make the awesome recipes that he has provided. I LOVE this! I am a huge fan of watching those Food Network shows and I am such a visual learner that seeing how something is made instead of just reading it works so much better me. I have become a much better cook thats for sure! Seeing the recipes being made can also help you figure out which ones you like the best based on your time and budget contraints. By
watching the videos
you can see some of Bobby Flay's cooking tips in action. Not to mention make you mouth water, mmmm good!
Luckily for me, my in-laws cook on Christmas Eve for the entire family. However, I do have the responsibility of cooking for my husband and children on Christmas Day though. I never know what to make but this year I am definitely going to take full advantage of the recipes offered on the
Hellmann's Real Holiday Helpings
site. It will be so nice to try some new recipes for a change. These
recipes
are so simple to follow and I think that this year I am going to have my boys help me with the cooking. They love to help in the kitchen and I love that the
recipes
seem really user friendly. This is what I plan to make based from the
recipes
that I looked at: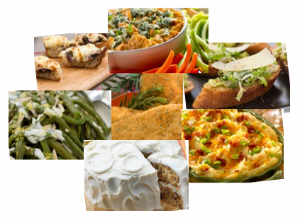 It was really difficult to narrow it down to just a few favorites. I went a little overboard on choosing my appetizers but I will probably make those earlier in the day and then a hour or two later serve dinner. After watching the video I can't believe how easy it is to make the
Caesar Salad Crostini
! I chose the
carrot cake
for dessert because my husband absolutely loves
carrot cake
and every time he buys one at the store he is disappointed because there are raisins inside of it. This
carrot cake recipe
contains NO raisins, yay!
And because everyone could use some extra holiday helpings this year,
Hellmann's
is also going to be awarding one lucky winner
free groceries for an entire year
! Just visit the
Real Holiday Helpings
site to fill out the entry form.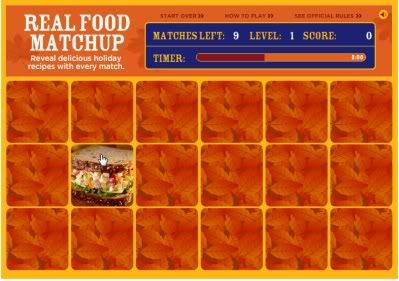 You can gain extra entries and have a whole lot of fun at the same time to by playing the
Real Food Match Up Game
. I had so much fun playing it trying to beat my best score. Its just like playing memory, which happens to be my all time favorite game! Its only a little disappointing to see that I'm getting older and my memory is not as great as I think it is. I still had so much fun playing the game though. Not only do you gain extra entries for the
groceries sweepstakes
by playing, but
each day the three top scorers of the game will be awarded a $50 grocery gift card
. You can play everyday and as many times as you want to increase your score. Watchout everyone, I think I have just found my Bejeweled replacement!
In addition to the
great recipes
and videos you will find on the
Hellmann's Real Holiday Helpings
site you can grab a
Hellmann's coupon
, and also link to the
Hellmann's Facebook Fan Page
where you can watch an exclusive behind the scenes interview with Bobby Flay as well as access to more recipes, videos, news and a coupon.

Just for spreading the word about this
awesome site
and sweepstakes I was given a $25 American Express gift card to help me out this holiday season! Guess what people?

One of my lucky PPM readers is going to get a $25 American Express Gift Card of their own!

How great is that!

How to Enter: Visit the
Hellmann's Real Holiday Helpings
site and comment back on this post telling me the name of your favorite recipe that is listed and leave a link to it.
This giveaway open to US and Canadian residents only.
Get extra entries!
Remember to leave a comment for each extra entry.
- Get
THREE Extra entries
for entering any other Pretty Pink Momma giveaway. Leave three comments for each giveaway you enter. - Check back often for new giveaways to gain extra entries
- Get
SEVEN Extra entries
for becoming a Facebook Fan of Pretty Pink Momma and
Hellmann's
, leave seven comments.
- Get
TWO Extra entries
if you Grab the Pretty Pink Momma button, comment on which url you posted it to, leave two comments
- Follow Pretty Pink Momma on Blogger, if you all ready follow just put that in your comment
- Get
FIVE Extra entries
if you Subscribe Via Email to Pretty Pink Momma posts, leave five comments -
you must activate your email subscription for these entries to count
.
- Get
SIX Extra entries
if you Follow
PrettyPinkMomma
on Twitter and tweet about this giveaway. Please copy and paste this into your tweet:
$25 American Express Gift Card
#Giveaway
http://is.gd/5eJIU
- Get
TWO extra entries
per day for tweeting daily - leave the tweet url in your comment for each extra tweet
- Get
THREE Extra entries
if you blog about this giveaway - leave the url in one of your three comments
- Get
THREE Extra entries
if you Stumble this post
- Get
TWO Extra entries
by adding Pretty Pink Momma to your Technoratti Favorites, leave two comments
- Add Pretty Pink Momma to any other social bookmarking site - just be sure to let me know which one in your comment. Add a new comment for each site.
Good Luck to all that enter!

This giveaway is open until Tuesday December 15th. The winner will be announced Wednesday December 16th.

Winner will be chosen using the Truly Random Number Generator widget on my right sidebar. The winner will only have ONE day to claim their prize or a new winner will be chosen.
*Thank you to MomSelect who has provided PPM and its readers with this wonderful opportunity*