Time for another True Story Tuesday. Go check out
Once Upon a Miracle
if you want to tell your True Story and link up to read more.
I thought I would tell you all a funny little story about Oscar today. This happened about ten years ago, long before we had gotten married and had our children. The good old days when we were livin' it up with no strings attached.
For those that aren't familiar with my blog, you might not know that my hubby is from El Salvador. He came here when he was six and once he got past the ESL thing he did have an American education. If you talked to him today you would never know that english is his second language, as a matter of fact he speaks much better english than spanish. Being in the US from such a young age, majority of what he had to speak to people was english, which is why his spanish skills are not as polished as his english skills. Anyways, on with the story.
Oscar loves to collect Disney movies. Way before we ever had children the man always had to have the latest Disney movie, being a kid at heart, he loves them. One night we were watching a documentary together and it was about Walt Disney. The documentary was dispelling the myth that Walt Disney had been chriogenically frozen and was actually buried. When the grave site picture showed on the TV our conversation went a little something like this:
Oscar: (in disbelief) "Oh my gosh! They spelled his name wrong!"
Me: "Uh, what are you talking about? They spelled it correctly. How do you think its supposed to be spelled?"
Oscar: "D-i-s-n-e-p"
Me: "Disnep? You think his name is Walt Disnep?" (at this point I'm laughing hysterically) "Why do you think that it's spelled with a P? That's a Y, you dumbass!"
Then he whips out one of his Disney movies so that he could prove me wrong. This is what he showed me: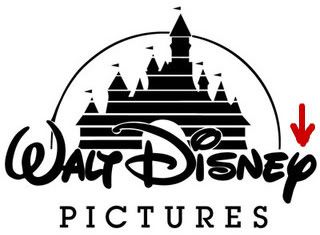 By this time I am really laughing my ass off, I just couldn't help it, I couldn't believe what I was hearing. So our conversation continued:

Oscar: "See! I told you I was right! There's the P right there!"

Me: "That's not a P you dork! That's a cursive Y, it just kinda looks like a P."

Oscar: "What? No way! That's a P! I swear!"

Me: "Uh, think about it, if it really was a P wouldn't it be Disnep instead of Disney?

Oscar: "I can't believe this! I thought that it was a silent P, you know like a silent K or a silent G - or some other screwy english language rule!"

Me: "Well, here's your first clue, there's no such thing as a SILENT P at the end of a word! It only applies to words like psycho. How do you not know that?"

Oscar: "I don't know, I'm not from here! Well, I guess I believe you if you say so, but I'm still gonna double check with the guys at work tomorrow."

Me: "You go right on ahead honey. I'm pretty sure that they'll make just as much fun of you as I am."


This is one of my favorite stories to tell about Oscar, it only comes second to the one where he peed in our fridge. But that one I will save for another day....