Have you ever wished that you could have clothes custom made just for you? Your body type, your height, etc... I know that I have. I have a few trouble spots when I try on clothes that always bug me. I have large arms and many shirtsleeves don't fit correctly, they are too tight. I also hate my arms and I wish to cover them up versus show them off. Sometimes I will find the perfect shirt, but wish it had longer sleeves. I also have a smaller waist size than my big ol' butt and thighs are so no matter what pair of pants I try on they usually are too big in the waist if they fit correctly on my hips and thighs. Those are just a couple of my annoyances when trying on clothes, ask any woman and she will tell you that she has issues of one form another when trying on clothes. Which is why I was very intrigued when I came across
eShakti
.
eShakti creates
custom clothing for women
sizes 0-26W. Their mission is to create clothing that will make any woman look their absolute best regardless of size. eShakti designs their clothing to have amazing drape as well as offering to customize any article of clothing to each customer's liking. They do this by allowing the customer to select sleeve length, neckline style or fabric color. They want to empower their customer with power of choice. eShakti feels that the power of the internet enables women to make the choices tailor made for their bodies. After all, Shakti in Sanskrit means power, combined with "e" they take it to mean the power of the internet.
I was more than thrilled to review an item from eShakti. I had such a hard time selecting which one that I would choose, to be honest, I really wanted to try out more than one. There are different categories to choose from including collections, dresses, tops, pants, coats and accessories. I really struggled with what to choose. The colors and patterns are very fashion forward and I didn't want to select something that I would only wear once or twice. I love so many of the
dresses
but being a stay at home mom primarily I don't really have need to wear one. Below is a sample of just a few of the dresses that they have available for their Spring Collection. Aren't they so cute?
Finally I settled on getting myself a new winter coat. Like I said earlier, I have large arms and the one I had in the closet had always been tight around my shoulders and arms. The ordering process was easy. I simply selected the item that I wanted and because it was a jacket and I loved it as is I did not need to customize the length or style. I did however make sure to add in my custom measurements. The directions and diagrams for measuring are easy to read and follow - which I loved! What I found the most challenging was needing the help of another person to help me with some of the measurements for accuracy's sake I didn't want to guess.
This is the jacket that I received from eShakti: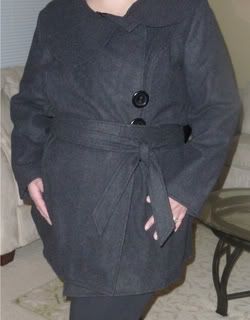 Please pay no attention to the fact that I cut my head out of the picture, I had no makeup and my hair was a mess, so to spare you all I left my head out. Speaking of the jacket, the arms fit great! It was roomy and comfortable. I have broad shoulders, so finding a jacket that fits correctly is tough. The sleeve length was perfect too. There were a couple of improvements that I would have made to the jacket however. The tie around the waist is separate from the jacket. Which is fine except when you have to take your jacket off and have nowhere to hang the tie. Also, this coat is clearly made for looks than functionality. There are no pockets at all which I found odd for a jacket of this nature. But that's just my take. Overall I would say that the jacket is a good fit.
eShakti is always adding new pieces to their line of trendy, affordable custom clothing. The jacket that I received is no longer available. Which makes sense seeing that winter is almost over and spring will be here before you know it. Several items that were available when I originally ordered can now be found in the Archive section of the site. There are tons and tons of great clothes at discount prices. Perfect customizing your wardrobe on a budget!
If you have ever read any of my previous posts than you would know that I love to accessorize. eShakti has tons of hair accessories, jewelry, scarves and belts to choose from that pair up nicely with the styles they offer. The accessories available will suit any woman, whether you like to funk it up a bit with flair or if you prefer a more classic look like pearls, the have accessories for all tastes and styles.
My biggest reccommendation if you plan to order clothing from eShakti is to take advantage of the measuring chart and play it safe. Do not just order a size Large and assume that it will fit. After all, the point of eShaki is to create an article of clothing that is designed just for your body, so why not give them your specific measurements? Go check out eShakti and see what they can make for you!

Win It!
eShakti is offering

TWO

Pretty Pink Momma readers a $20 gift card!
How to Enter:
This giveaway is closed.
Open to US and Canada only.
Congratulations to Andrea and Darcie K!
Get extra entries!
Remember to leave a comment for each extra entry
- Get
THREE
Extra entries for entering any other Pretty Pink Momma giveaway. Leave three comments for each giveaway you enter. - Check back often for new giveaways to gain extra entries
- Get
SIX
Extra entries for becoming a Facebook Fan of
Pretty Pink Momma
and
eShakti
, leave six comments.
- Get
TWO
Extra entries if you Grab the Pretty Pink Momma button, comment on which url you posted it to, leave two comments
- Get
THREE
Extra entries for following Pretty Pink Momma with
Google Friend Connect
, if you all ready follow just put that in your comments
- Get
SIX
Extra entries if you Subscribe Via Email to Pretty Pink Momma posts, leave six comments -
you must activate your email subscription for these entries to count.
- Get
THREE
Extra entries if you Follow
PrettyPinkMomma
and
eShakti
on Twitter and tweet about this giveaway. Leave a link to your tweet url in the comments. Please
copy and paste
this into your tweet:
Custom order clothes designed to fit your body - womens size 0-26W. 2 will #win a $20 gift card to @eShakti #giveaway http://is.gd/8ZoTX
- Get
TWO
extra entries per day for tweeting daily - leave the tweet url in your comment for each extra tweet
- Get
THREE
Extra entries if you blog about this giveaway - leave the url in one of your three comments
- Get
FIVE
Extra entries if you Stumble this post, leave five comments
- Get
TWO
Extra entries by adding Pretty Pink Momma to your Technoratti Favorites, leave two comments
- Add Pretty Pink Momma to any other social bookmarking site - just be sure to let me know which one in your comment. Add one comment for each site.
Good Luck to all that enter!

This giveaway is open until Tuesday March 16th.

Winner will be chosen using the Truly Random Number Generator widget on my right sidebar. The winner will have three days to claim their prize or a new winner will be chosen.
*I share my 100% honest thoughts and opinions in all posts. For product reviews I am only compensated in product for the sole purpose of writing an honest review. Please refer to my disclosure policy or email me if you have any questions.*