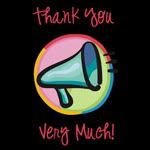 This week I'm joining in on Kmama's from the
Daily Dribbles
Thank You Very Much! meme. I have always wanted to link up to this fun and sarcastic way to vent frustrations of the week. Believe me, I've got plenty!
To my husband for having to go out of town when I absolutely hate being by myself, even if its just for one night, thank you very much!
To the huge wind storm that caused the power to go out for eleven hours on the one and only night that my husband was out of town, thank you very much!
To my little Emilio for throwing a ball at my desk while I was trying to actually get some work done and then knocking my coke all over my desk, thank you very much!
To the strange and anonymous scalp disease that is causing yet more hair loss for no apparent reason, thank you very much!
To little Oscar who cries everytime he drops his ginormous stack of Pokemon cards, yet refuses to keep it bound with a rubberband, then demands that I clean up his mess, thank you very much!
Oh yeah, lets not forget those who created Pokemon - thank YOU very much!
To the kitchen counter, what the hell? Why is it that as soon as I start to see you underneath all of that schoolwork, newspaper ads and other miscellaneous crap you get completely covered up again! Thank you very much!
To my little shark vacuum, why did your handle break completely off? You know that I hate to drag out the huge Dyson to pick up the thousands of mini spills that occur on the floor all day long, now I just let the crumbs and ground in goldfish crackers sit that much longer until I get around to vacuuming, thank you very much!
Well, I know I have more but that's all I can think of right now. The lack of sleep is melting my brain. - Thank you very much!! Guess I had one more in me!
For more frustrations go visit
The Daily Dribbles
and link up to vent your own!