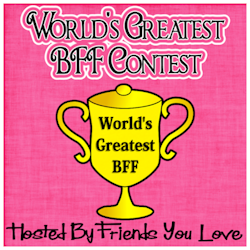 A BFF is someone who has been there for you at all times and will listen to what ever you have to say. They will call you just to see how you are, but that's if they're not with you at the moment. Usually, a BFF is someone you've known most of your life and have been through a lot with them. (source: Urban Dictionary)


We all know who she is. She is the person you can say anything to and in turn, she can say anything to you. To some she is your sister, to others, your mom. She could be a girl you grew up with or a woman you grew close to in college or even after, but we all have one. We all believe that ours is the best.
In yesterdays post I bragged a bit about my longtime BFF to you. My BFF, Renee, has been my greatest friend. Its crazy to think that exactly TWENTY years ago this week our friendship began. My first day of sixth grade Renee sat across from me in our group of tables. She was so genuinely nice and friendly which meant the world to this shy, little almost 11 year old girl. I specifically remember thinking that I just had to be friends with her, anyone that friendly was worth getting to know. In that respect Renee hasn't changed a bit. I think that anyone that meets Renee today feels the same way as I did twenty years ago.
Renee has been my partner in crime many, many times. Whether she wanted to or not - cause that's what best friends do. In our younger days she not so happily ate at McDonalds two or three times a day just so I could flirt with my crush of the week. I was so boy crazy - I even once dated her twin brother - but that was in sixth grade so it doesn't really count right? We snuck out of the house on several occasions to meet God knows who, God knows where. Even when we got busted, and I would get grounded, my parents liked her so much that I would be grounded from everyone but Renee.
Let me tell one tell tale sign of a true friend. They have your back all they way even when you would never think of asking them. For them its a given. One time, about ten years ago, I was going through some rough times financially and even though it killed me, I asked her for a small loan until my next pay day. I only needed like $100 and I planned to pay her back ASAP. The girl met me and showed up with like $700! She was ready to give it all to me because she had no idea how much I would need. I about freaked out! Even though she was my BFF I would never even think to ask her for that much money ever. She insisted that if I needed it she was able to give it, no questions asked. I didn't take the extra cash but the mere fact that she just whipped it out as a sign of faith in me spoke volumes. She knew how much it pained me to ask her and she offered to help without any reservations.
As we got older our adventures changed from chasing boys to chasing the dream of wife and mother. We were there for each other's wedding days as well as the birth of our children. Both of us struggled with leaving behind our careers to take this new challenge of SAHM head on. She was there for me and I was there for her. Motherhood was now another notch in the belt of our friendship, which only strengthened our bond. I can't tell you how nice it was to have a friend to share those OMG mommy moments, good and bad, with someone that would understand.
Our friendship has had highs and lows over the last twenty years. There were several times that we fought or disagreed with one another, we are very different people, but I think that is what draws me to her so much. She loves simple things, I like to live in excess. Renee always plays by the rules and I think that the rules are meant to be broken. I am a sucker for sappy love songs, oldies and even some great country music which Renee wouldn't be caught dead listening to. She is a punk rock girlie and always has been. Renee has always been artistic, she can make anything look beautiful without really trying. I didn't start to discover my creative side until I was much older. Renee makes motherhood look easy and I am a super mess with my boys. She wears hardly any makeup and never has to work hard to make her hair look great. I refuse to go out in public without my makeup and my hair has to be perfect, which for me takes forever cause I'm only working with three strands! She is the yin to my yang. She keeps me in check and there is no way that I could have lived these last twenty years without her sound advice.
Not only does she give great advice but she doesn't take offense when I don't follow it. In fact, she knows the odds are that I probably won't. Not because I don't appreciate her input, because I do, but because she knows me well enough to know that in the end I'm gonna do what I want to do regardless. Renee knows me so well that she can tell just by my tone of voice or a look on my face what I am thinking even if I am not saying outright saying it. I can hide nothing from her, nor would I ever want to.
Renee is the best BFF a girl could ask for. She makes me want to be a better person, and I am thankful that I have had the good fortune of her friendship for 2/3 of my life. I can't tell you how many times in my life that even when she wasn't around I thought to myself, "what would Renee do?". I admire her and if there was a best friend award she would win it hands down. Hopefully she won't kill me for posting a picture of her on the internet...
In celebration of our twenty year anniversary were are heading out for a girls night out tonight! We will be going to see Cindy Lauper at the Woodland Park Zoo cause ya know, girls just wanna have fun! Yep I went there cheese and all! I am hoping to score a pic of Renee and I with Cindi Lauper in the background cause that would be hilarious!
Tell Friends You Love All About Your BFF and You Could Win Stuff For You and Your BFF!
In honor of International Women's Friendship Month and our Friends You Love Celebration, we want to hear why you think you have The World's Greatest BFF.
To enter:
Write a post about your BFF. - How do you know her? How has she been there for you? Tell us about the things you've been through together, through thick and thin. Why is YOUR BFF The World's Greatest BFF?
Come back here and link your post up
Entries accepted 9/2 - 9/19

On 9/23, we will post our Top 5 favorite BFF posts.
Beginning 9/24, the public can come back and vote for their favorite!
Voting will close at 5 p.m. CST on 9/29
The winner will be annouced at Twitter Gala on 9/30 and receive an extensive prize package for herself

AND

her BFF!
So join the challenge! Write about your BFF, come back, link up, and win!!!