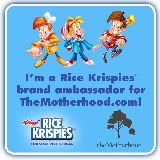 During the holidays we have tons of parties and get togethers to attend if not host as well. Whether we are hosting an event ourselves, or we just want to bring a special showstopping dessert to the party, one thing is certain, its all about the presentation. Not only does the dessert need to look good but taste good too! After all, who cares what it looks like if once someone takes a bite they instantly want to spit it out right? One treat that is always a crowd pleaser, that you simply can't to wrong with, are Rice Krispies Treats.
During the Fourth of July I was involved in a Rice Krispies Treat challenge with 9 other Rice Krispies Treats Ambassadors. Unfortunately I lost that challenge, but making Rice Krispies Treats and spending time with the family could never be considered a loss in my book! This holiday all 30 Rice Krispies Treats Ambassadors from previous challenges are competing with a new challenge. I am really excited about this one because this challenge is all about the presentation. We are all competing to create a stunning holiday showstopping Rice Krispies Treat dessert display. One that will make our guests stop in their tracks and admire it as they walk in the door. THIS is gonna be FUN.
My first idea was to create and mold a Rice Krispies Treat tree and decorate it, in addition to that I was think some nice squares of Rice Krispies Treats decorated as presents below would be make the look complete. Here is how that idea turned out:
Basically I followed the directions for making Rice Krispies Treats only for the first batch I added green food coloring. Then I just rolled out half of the mixture and once it was flat I cut it in a triangular shape then rolled it up and pressed the seams together. Then I ripped off bits from the mixture that was left over and made different sized leaves for the tree. Then I decorated the tree with sugar sprinkles, candies and frosting. I placed it on a festive red platter before moving on to my next step.
For the presents I made regular Rice Krispies Treats squares and then decorated them frosting, candy and sprinkles. I put shredded coconut on the platter and placed the presents on top. I also had set aside one square and rolled it out and free hand cut out a star that covered in yellow and gold sprinkles on both sides. I placed the star atop the tree for the finishing touch.
While this display looked great in my opinion it did have a couple of problems. The tree looked great but essentially it was like one big treat so it wasn't feasibly edible for one person. The branches for the tree ripped off okay but they were more bite size than treat size. I made one mistake with the presents, I placed them on shredded coconut. I liked that the coconut looked more like snow but I am the only person in my family that likes coconut and it stuck to the bottom of the treats so I heard nothing but complaints about that from them. My husband wouldn't even try one of the presents because of that fact. So for me, even though I think that it looked great, this display was still a bust and not one that I wanted to enter in the challenge.
I knew that I needed to come up with something else, something that was delicious, fun and beautiful. Maybe even customizable depending upon the person that was going to be eating it.... So without further ado here is my actual recipe that I will be submitting as my entry to the challenge. I would love to hear what you think about it!
*******************************************************
Fudge Surprise Holiday Ornaments
Preparation Time:
20-40 minutes
(depending upon what fudge recipe you use or if you buy store bought fudge)
Total Time:
40-60 minutes
Servings:
Four large or eight small to medium sized
Ingredients
3 tablespoons of butter
10 oz of mini-marshmellows
6 cups of Rice Krispies cereal
1 lb of your favorite homemade fudge or use store bought fudge
1 package of mini candy canes
silver or gold sprinkles
assorted sprinkles in various colors
assorted frostings and gel icings in various colors
Other Useful Materials
Parchment paper
Rolling pin
Ice cream scoop
Decorative platter
Directions
If you are using homemade fudge, prepare this ahead of time. I used this
fudge recipe
for my Fudge Surprise Holiday Ornaments
In a large saucepan over low to medium heat melt butter and marshmellows.
When mixture is completely melted stir in the 6 cups of Rice Krispies.
After its mixed keep the mixture on low heat to keep it maleable.
Take out a large scoop, a little bigger than palm sized .
Place it on some parchment paper and place another piece of parchment paper on top.
Use your rolling pin to flatten it out to about 3/4" thick then mold it into a circle with your hands.
Get your ice cream scoop and scoop out a rounded ball of fudge from its container, then gently shape it into a ball like form and place inside the center of the molded circle.
Fold up the Rice Krispies mixture around the fudge and mold it into a ball. If you hands get too sticky during this process use some parchment paper and mold the ball inside of it.
When the ball is shaped get a small bit of Rice Krispies mixture and mold it into a topper for the ornament, a separate piece that the "hook" would attach to.
Pile up some gold or silver sugar sprinkles and press the top of the small mold into them to create the gold or silver crown of the ornament. Then place it atop the molded fudge ball ornament and press to create a seal.
Get out a mini candy cane and place it through the center of the added top crown piece creating the "hook" look.
Repeat steps 4-11 with the remaining Rice Krispies mixture. In total you should have about 4 good sized Fudge Surprise Holiday Ornaments.
Place your four ornaments on a decorative platter and decorate them with assorted icings, frostings and sprinkles of your choosing.
For some decorative flair surround the ornaments with mini marshmellows or shredded coconut for the appearance of "snow".
Here is what the inside of the Fudge Surprise Holiday Ornaments should look like:
For a fun party activity you could prepare the ornaments up until step 12 and then let your party guests decorate their ornaments to their liking. You could even have a contest and vote for the best and worst ornaments and give out small gifts to your guests. This would also be a fun activity for kids to partake in as well if you had a party that was mixed with adults and children.
*******************************************************
So, what do you think? Do I have a shot at winning? I hope so! If I win I will get my recipe featured on
RiceKrispies.com
and the Kellogg's Rice Krispies Facebook page. That would be so cool! I have some stiff competition though. To check out what my competitors are making visit the
Rice Krispies Treats Circle at TheMotherhood.com
. I am up against some very dessert savvy ladies so if you need some great ideas for displaying some fun Rice Krispies Treats definitely check out the circle, I swear, you will be AMAZED.
Rice Krispies wants you to make your very own showstopping Rice Krispies display this season and they are going to give one lucky Pretty Pink Momma reader a

$100 VISA gift card

to use towards all of the ingredients!
How to Enter:

Giveaway is now closed

. Comment on this post telling me your favorite Rice Krispies Treat creation that you have ever made, ever tasted OR ever seen!
Congratulations to JanetandMaya!
*Abbreviated Rules. No Purchase Necessary. Begins no earlier than 12:00:00 AM (ET) on 11/29/10 and ends no later than 11:59:59 PM (ET) on 12/21/10. For complete Official Rules, go to http://web.mediacdt.com/docs/motherhoodholiday Open to legal residents of the fifty (50) United States and District of Columbia who are 18 years of age or older at time of entry. Subject to complete Official Rules. Void where prohibited. Sponsor: TheMotherhood; www.TheMotherhood.com
Get Extra Entries! Remember to leave a comment for each extra entry
Get 3 Extra entries for becoming a Facebook Fan of Pretty Pink Momma and the Kellogg's Rice Krispies, leave three comments.
Get 1 Extra entries for following Pretty Pink Momma with Google Friend Connect, if you all ready follow just put that in one of your two comments
Get 2 Extra entries for grabbing my new button, leave two comments
Get 5 Extra entries if you Subscribe Via Email to Pretty Pink Momma posts, leave five comments - you must activate your email subscription for these entries to count.
Get 3 Extra entries if you Follow PrettyPinkMomma on Twitter and tweet about this giveaway. Leave the tweet url in one of your three comments. Please copy and paste this into your tweet:
Love #RiceKrispies treats? #Win a $100 VISA #giftcard to get you started on your #holiday treats! #Giveaway ends 12/21 http://is.gd/iDj8m
Get 1 extra entry for tweeting- no more than 2 tweets per day, - leave the tweet url in your comment for each extra tweet
Get 3 Extra entries if you blog about this giveaway OR submit this giveaway on any giveaway listing site - leave the url in one of your three comments.
Get 5 Extra entries if you Stumble this post, leave five comments
Get 5 Extra entries by adding Pretty Pink Momma to any social bookmarking site - just be sure to let me know which one in your comment. Add five comments for each site. The bottom of each post is now fully equipped with several different sharing options for your convenience!
Good Luck to all that enter!

This giveaway is open until Tuesday December 21st

. One winner will be chosen using the Truly Random Number Generator widget located in the footer. The winner will have 48 hours to claim their prize or a new winner will be chosen.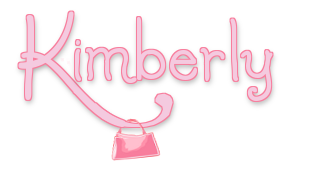 *I received a $100 VISA gift card to cover the expenses for the ingredients as well as Rice Krispies Cereal and a stipend for my participation in this challenge. All thoughts and opinions expressed are my own. Please refer to my disclosure policy or email me if you have any questions.*