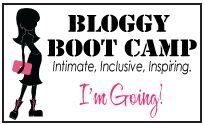 This weekend I attended the SITS girls Bloggy Boot Camp in Seattle. I was really excited to go to this because it's officially the first conference that I have been to. I'm viewing it as my warm up to BlogHer in August. I loved that it was in Seattle and I that I got to spend some time in my old neighborhood. Plus you know a weekend away from the husband and kids was really refreshing. I have missed having the me time.
I went with my good friend Tammy, from
Tammy's Two Cents
. We shared a room and it was reminiscent of those good old slumber party days. Beyond learning ways to improve my blog I also was really looking forward to meeting lots of new bloggy friends. I have been waiting forever to meet a group of bloggers in person.
I was in a hurry so I stole this pic from my new BFF Kristen from
Our Ordinary Life
, who is the lovely lady standing next to me on the left. On my other side is Jenny, from
Jenny on the Spot
. She was a speaker, frickin' awesome one too, and I had heard a ton of great things about her from Tammy so I was excited to finally meet her. Next in line is Tammy, my roomie. Then Tina from
Mad Hatter Mom
- who I loved meeting! I feel like such a dork but I can't for the life of me remember the gal on the ends name! Yes, I suck. Or it could be that I have had ZERO sleep in the last couple of days. She was so nice and she hasn't not yet started her blog yet but I know that I will definitely want to keep in contact with her when she does.
Obviously this was just a small handful but I just had to share my new favorite bloggers because I had so much fun meeting them. I loved it hanging out with all of these wonderful ladies!!!
Later in the week I will do a post on some of the things I learned at Bloggy Boot Camp. Like I mentioned earlier my brain is fried so I couldn't throw together a decent post if I tried. So for now I'm gonna get some sleep and just try to soak in all the great things I learned.