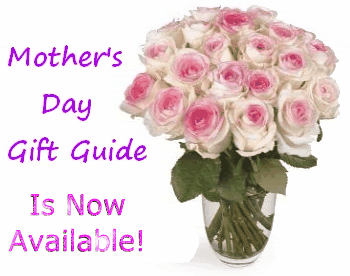 I know that some have you been in eager anticipation of all the fantastic gift ideas that I have in store for this Mother's Day. This guide will include products that I have reviewed personally as well as those that I would love to receive but have not reviewed. Either way I believe that I have put together a list of chic, beautiful and affordable items that will be sure to please any momma!

As always, I w
ould love to hear your thoughts on the guide! Suggestions are always we
lcome too!

Enjoy!
Hana Mini Flat Iron in Pink
This compact, on the go mini travel iron is perfect for any mom that loves her flat iron. It comes in its own little pouch and fits perfectly in a medium sized purse. I carry mine on me at all times.
Read the full review
The
SurfShelf Treadmill Desk and Laptop Holder
The
SurfShelf
is the perfect gift for any multi-tasking mom. I love that I can read blogs, check email, catch up on missed tv shows and more from my laptop all while getting my exercise in at the same time!
Read the full review
Snaptotes Purse, Tote, Wallet, Make Up Bag, etc...
Mom can personalize her purse, tote or wallet with a picture of her choice. Proud moms can display their babes everywhere they go with these high quality, sought after bags. Tons to choose from, I would love one of these. My next door neighbor and dear friend
Tammy
has one and hers looks so awesome! To get your
Snaptotes
by Mother's Day it must be ordered by April 29.
Use Coupon code
DEARMOM10 forfree ground shipping!
Purse Hanger
The perfect give for any germaphobe! The purse hanger is a beautiful, take anywhere hook for stylish moms to hang their purses on. Attach the hook to any table or flat surface and the counter weight of the purse holds the hook in place. No more hassle trying to figure out where to put your purse when you go out! I have seen these as low as
$3.99 at Amazon
!
Read the full review
Pe
rsonalized Key Chain
One of my favorite things is a key chain, just like the one in the picture, that is personalized with each of my sons' names. It's simple and elegant and I love it!
Read the full review
Starbucks Coffee Cozy
The perfect gift for the java junkie! Fill an empty cup with a Starbucks gift card and place a chic, stylish and earth friendly coffee cozy around the cup! I love this one from Lorijoz Unique Gifts for only $9.
Enter the
Earth Day giveaway
and win one of these cool cozies for mom or for yourself!
Contour I + Beyond Euphoric sensory set
This gift in particular would be a little weird to give to your mom but a perfect idea for all the husband's out there looking to show the mother of their children a little appreciation. What mom out there doesn't deserve a great massage?
Read the full review
Keep an eye out - Another Eden Fantasys $50 gift card giveaway is coming soon!
Flirty Apron
You can help mom feel glamorous in the kitchen with these Chic,
designer aprons
for mom! Us SAHM moms don't always get to get dressed up to leave the house so why not get all dressed up when were home with a flirty apron? Also perfect for any mom or grandma that loves to cook! There are several chic designs to choose from to suit a variety of chic tastes.
Read the full review

Use Coupon Code

FA-4110B

to get
40% off of your total purchase! Expires 5/12
Mom Needs a Break!
Help mom find a qualified sitter or nanny in her area so that she can take a break! NannyPro.com has tips and advice for hiring the perfect nann
y.
Read the site review and enter to win a 4 month membership (ARV $60) to NannyPro.co
m!

Coupon Code:
Save 15% off your membership with
the coupon code NannySave
The Texthook
The
Texthook
is a great on the go attachment for a busy mom that can't live without her smart phone. The Texthook attaches easily to any stroller bar, treadmill or bike and secures your smart phone for hands-free use.
Read the full review
Imprecious Personalized Fingerprint Jewelry
I love this idea! Have your loved ones fingerprints cast in silver and made into special jewelry pieces like earrings, necklaces or bracelets! I have necklace that includes a fingerprint charm from each of my boys and I love it! It is one of my favorite pieces of jewelry because it is not only beautiful but holds sentimental value as well.
Read the full review
Chunky Bling Interchangeable Watch Set
Moms can have the freedom to design their favorite chunky watch. There are 50 different wrist bands and 65 different faces to choose from.
Read the full review and enter to win one of these watches!
Use coupon code

KIMBER520

and receive a 15% discount off any jewelry order until May 18th
Pearl Necklace
A
pearl necklace
is a classic and timeless gift for any woman. This is actually what I received last year for Mother's Day. A pearl necklace is a staple for every woman's jewelry box.
Read the full review
The Best Day Planner's for Mom's -
momAgenda
I love my
momAgenda
day planner! Several styles to choose from there is something for every mom here!
Read the full review
Coupon Code:

Use MOM10 to receive $10 off your order
Flojos
Essential to my "momiform" are comfy flip flops. I love these
Xena Flojos
-like walking on egg crate foam! COMFY! Lots of colors too!

Keep an eye out for the Flojos review and giveaway coming soon!
OPI Tiny Takeouts
are only $8! Pair it up with a gift card for a pedicure for a gift that mom is sure to love.
Dearfoam Slippers
These super comfy slippers have been pleasing moms feet for over 60 years!
Dearfoams
are the number one name in slippers, selling over 20 million pairs each year. With 87 different pairs of slippers to choose from, most under
$25, its guaranteed you will find one for mom that fits her personality and style. -
Review coming soon!
Coupon Code:
Use MOTHERSDAY by 5/9 to receive 20% off your order
Bare Mineral Getting Started Kit
I LOVE
Bare Minerals
! If you haven't tried it you are missing out! I get compliments on my skin all the time and its only because Bare Minerals covers up my flaws so well. One of my must haves that I simply cannot live without. Plus it goes on fast and easy and I'm out the door in ten minutes! Any mom would love this make up!
There you have it, those are my top picks for Mother's Day 2010! I would love to know what you your thoughts are. Please leave a comment to let me know what your favorite item on the guide is.
*
I wrote this review while participating in a blog campaign by Mom Central. Mom Central entered my name in a random drawing to win a gift card to thank me for taking the time to participate. I share my 100% honest thoughts and opinions in all posts. Some of these products have affiliate links included. Please refer to my
disclosure policy
or email me if you have any questions.*